Car Audio Links

Probably the most detailed site out there for learning about electronics. This site is huge and the Flash animations and calculators are great. If you're serious about learning electronics definitely check out the full download of the site. Well worth the small price and it comes with a collection of test tones too. Several great calculators and Flash programs are also in this download that aren't on the main site. A must have IMO.
---

CarAudioBook.com is the sister site to CarAudioHelp.com. It contains similar information but most of it is different than what is covered here. This was originally an eBook that we had for sale but have decided to convert it into a free website. If you like this site be sure to also check out CarAudioBook.com
---

eCoustics.com categorizes audio/video news, reviews, and articles on the Internet. eCoustics.com combines many resources, including reviews, current news, articles, customer feedback, consumer discussions, and expert opinions to help you learn and make informed buying decisions. You can use the banner above to go directly to the car audio section.
---
Parts Express carries car stereo, car security as well as home stereo and miscellaneous parts. Parts Express is generally the least expensive place to buy wire and connectors. Great for DIY speaker builders too. Be sure and check out their web specials. The links are almost hidden in the right hand column but they're worth finding.
---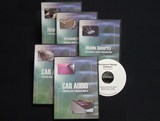 The Car Audio Help DVD catalog includes five different videos covering many areas of car audio installation and custom fabrication. Topics range from basic system installation (head units, amplifiers, speakers, etc.) and mobile security (car alarms and remote start) to subwoofer box design and fiberglass fabrication. If you're interested in custom fabrication and car audio installation be sure to check out what we have to offer.
Click here to see the discount DVD packages
---