Car Stereo Equipment Reviews
eCoustics is one of the most extensive sites for car stereo reviews. Reviews are compiled into two categories, expert and consumer. The expert reviews are from members of the media and the consumer reviews are from regular consumers. They also combine car stereo reviews from some of the other sites, including Epinions and CarReview. Use the link above to go directly to the car stereo reviews.
---
Epinions is a general consumer review site, not specializing in car stereo reviews. They cover many topics that aren't related to car audio. The reviews are from people who have owned and used the products they are reviewing for an extended period of time. Use the link above to go to the Electronics section. Then you'll need to click on the car stereo link to get to the car stereo reviews.
---
CarReview concentrates on all things automotive. They have reviews on cars, performance parts, car accessories and car audio. The reviews are consumer based, similar to Epinions. Use the link above to go to the section on car stereo reviews.
---
If Crutchfield carries the equipment you're looking for then there's a good chance there are several customer reviews on it. And with the ever expanding brands being carried by Crutchfield you're likely to find just what you're looking for.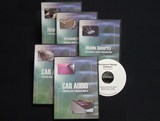 The Car Audio Help DVD catalog includes five different videos covering many areas of car audio installation and custom fabrication. Topics range from basic system installation (head units, amplifiers, speakers, etc.) and mobile security (car alarms and remote start) to subwoofer box design and fiberglass fabrication. If you're interested in custom fabrication and car audio installation be sure to check out what we have to offer.
Click here to see the discount DVD packages
---
Next Page ---> Car Audio Competitions