Car Audio Routers
Probably the greatest tool in custom car audio fabrication is the router. Whether used in a fixed base, a plunge base or a router table the router is versatile and indispensible to car audio installers and fabricators. No other tool can do what it can do whether it be cutting perfect circle with a jig or duplicating shapes in a table. But there are so many routers, bits and jigs out there it's hard to know what to buy. A lot of that depends on your budget and the purpose you want the router to fulfill. Here are my recommendations based on the job you're doing and your budget.
Budget - If you're just starting out and money is tight you might consider an inexpensive plunge router. This will allow you to do the jobs only a plunge router can do while also being able to function as a fixed base router (though not ideally). I have a cheap plunge router I purchased from Harbor Freight Tools. This will run you somewhere between $50 and $100. If you can spend about $200 I highly recommend the "best buy" router below.
Best Buy - In my opinion the best investment in a router for car audio fabrication is the router "kit". The Porter Cable 694VK consists of a 1.75 HP router motor, plunge base, fixed base and both 1/4" and 1/2" collets. This allows you to have one router motor which can be interchanged with two bases and allows you to use both large and small shank router bits. And with the addition of the right router lift this can be the only router you ever need to buy. This is basically the industry standard in routers. It has enough power for almost any job you can tackle in car audio and since it is so popular there are a lot of accessories and add-ons designed to fit this setup.
No Compromise - If money is no object, or if you want a high end powerful router, I recommend the Porter Cable 7518 fixed router. This monster has a 3.25 HP motor and is adjustable with five different speeds. This is critical if you want to work with very large bits. Generally this is not the case in car audio fabrication. But having all of that power on tap can make your work go faster which can be critical in a shop environment where time is money. This router is most often used in a router table to do all of the grunt work, especially when duplicating shapes.
Car Audio Router Jigs
The main router jig used in car audio fabrication is the circle jig. There are several available but I prefer the jigs from Jasper Audio. In particular the Model 200 and Model 400. The main advantage to using the Jasper jigs is the pre-drilled holes. Rather than having to measure and set the router for each cut the Jasper jigs have pre-marked holes which a pivot pin fits into. Used in conjunction with a 1/4" straight cutting router bit you will get a perfectly sized hole that can be adjusted in 1/16" increments.
Car Audio Router Lifts
One of the most useful router accessories I use is a router lift. I was introduced to router lifts by the owner of a custom plexiglass fabricator who needed the precision that a lift offered. The lift I use and recommend is the JessEm Rout-R-Lift which works perfectly with the motor in the Porter Cable 694VK kit. Or if you want to use it with the motor in the more powerful Porter Cable 7518 they also make the larger JessEm Mast-R-Lift. But I like to use a double router table setup with a Porter Cable 7518 setup for duplicating and flush cut duty with the 690 series motor in the JessEm Rout-R-Lift for precision work. If you want to do plexiglass work beyond simple windows and trim pieces than a router lift is a must have item.
---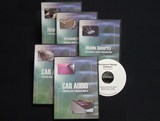 The Car Audio Help DVD catalog includes five different videos covering many areas of car audio installation and custom fabrication. Topics range from basic system installation (head units, amplifiers, speakers, etc.) and mobile security (car alarms and remote start) to subwoofer box design and fiberglass fabrication. If you're interested in custom fabrication and car audio installation be sure to check out what we have to offer.
Click here to see the discount DVD packages
---
Back to the Newsletter Archives Index