Buying Car Stereo Equipment at Government Auctions
I recently attended the local city auction looking for confiscated car stereo equipment. This is a yearly auction that most cities have to get rid of their surplus computers, old police cruisers, confiscated merchandise, etc. Depending on the size of your city you may find a lot or a little that interests you. This time I found a little that interested me but I was able to get some really good deals.
You can also go to local police auctions where you're likely to find confiscated and stolen stereos in various conditions. The upside is you can often pick up the equipment cheap because you'll be one of the few who knows what it is worth. The downside is you don't know if it even works and the police don't offer a money back guarantee. See if you can bring a small 12 volt battery such as a motorcycle battery to test the power up of the equipment. I'd also bring a small speaker like a 3.5" to check the output as well. You can even rig up portable MP3 players to give the amplifier a music signal. Use your imagination and keep it all in a shoebox for easy transportation. It's your money and you don't want to waste it on dead equipment.
The upside of a city or police auction is that the equipment that was confiscated probably does work. More than likely the car stereo equipment was working when it was stolen. People don't usually keep broken stereo equipment hooked up in their vehicle. All of the equipment I purchased tested out as working. Here's what I was able to get:
Sony amplifier, 75x4 - $25
Legacy amplifier, 250x4 max (actual RMS wattage unknown) - $30
Rampage CD player, Pioneer 6x9s, Pioneer 12" subwoofer - $22.50 (deal of the day)
See if your auction has a preview day where you can look at the equipment before the auction starts. I did this and went home with a list of model numbers to research. The best way to tell what the equipment will bring is to check out what the items sold for on eBay in similar condition. I also have a copy of the Orion Blue Book for Car Stereo which let's me know what the wholesale and retail value of the equipment is. This is the same book that pawn shops use to determine what they'll buy and sell a piece of equipment for. They're about $150 new but you can pick them up on eBay for much less. Get as current a volume as possible (there's a new one each year). You can also buy individual lookups at the Orion site (not affiliated with Orion Car Audio which is owned by Directed).
You can check out this government site to find auctions in your area. You should also call your local city or police to see when they run their auctions.
---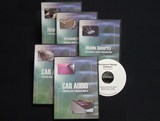 The Car Audio Help DVD catalog includes five different videos covering many areas of car audio installation and custom fabrication. Topics range from basic system installation (head units, amplifiers, speakers, etc.) and mobile security (car alarms and remote start) to subwoofer box design and fiberglass fabrication. If you're interested in custom fabrication and car audio installation be sure to check out what we have to offer.
Click here to see the discount DVD packages
---
Back to the Newsletter Archives Index