Car Audio Holiday Shopping Tips
Local Bargains
Many retailers, and especially the large chains, kick off the holiday shopping season with a big sale the Friday after Thanksgiving. The X-Mart type chains will make large purchases on several items and offer them at substantially reduced prices. Typically this will be for TVs, DVD players and other consumer electronic items.
But many of the "big box" electronic retailers (Best Buy, Circuit City, etc.) will do a similar thing for car stereo items. The idea is to get a lot of customers coming into the store to buy these heavily reduced items. The catch is that there aren't enough to meet the demand so you have to get there early and stand in line until the store opens. Not a fun way to spend the morning if you live in a cold climate.
You'll want to get a copy of their flyer before the big sale to determine if they will be offering anything worth waiting for. If you're lucky you might know someone "on the inside" who can set one in the back for you. Theoretically I'm sure employees aren't supposed to do that but it happens.
The week before you might also call around to the local specialty car stereo shops and see if they plan to run any promotions. Most do, some don't. Usually they want to cash in on the holiday hype too. Don't waste their time on the phone asking about everything that's on sale. You can ask questions like, "Are you going to have X brand CD players on sale?".
Online Bargains
Holiday bargains are a little easier to find online but may not be as good as those advertised in the sale flyers. But it's still worth checking the "big box" retailer's websites to see what they have to offer.
Crutchfield has several areas of their site that offer good deals. The main categories are sale items and outlet items. The sale items are just that. The outlet merchandise is customer returns and is discounted 10% if I remember right.
You should also keep an eye out for the term "special purchase". This is often a factory buyout by the retailer that will get you good merchandise at a fraction of the cost.
Those are the techniques I use to get better deals during the holiday shopping season. Hopefully you'll find them useful and will save yourself money by knowing where and what to look for.
---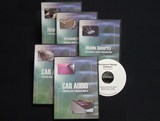 The Car Audio Help DVD catalog includes five different videos covering many areas of car audio installation and custom fabrication. Topics range from basic system installation (head units, amplifiers, speakers, etc.) and mobile security (car alarms and remote start) to subwoofer box design and fiberglass fabrication. If you're interested in custom fabrication and car audio installation be sure to check out what we have to offer.
Click here to see the discount DVD packages
---
Back to the Newsletter Archives Index