Building a Low Cost Car Audio System
High Fidelity Doesn't Have to Be High Cost
Car audio can be expensive. There are all sorts of gadgets and components in every price range, all designed to suck more money out of your wallet in the pursuit of a better system. It's like that in any hobby. But a great system doesn't have to cost a ton of money. Here's my suggestions for putting together a car stereo that sounds great and doesn't break your budget. I'll start with the head unit and work my way to the speakers.
Head Unit
Many times you will be able to use your factory head unit as a source. Especially if you have a newer vehicle. The electronics have really improved and if your head unit has the source you want (tape or CD) you can probably keep it. If you do want to replace it then you can pick up a good quality CD player for around $100 on sale. With a good quality source unit you're ready to move onto the amplifier.
Amplifier
Although you could use your head unit's built-in power I really don't recommend it if you want really good sound. It's impossible to cram a great sounding amplifier into a head unit because of space limitations. I'd recommend getting a reasonably sized, 4-channel amplifier instead. Pick one that has built in crossovers for both high and low pass sections. It would be better if the crossover points were adjustable but it's not absolutely critical. Look for an RMS power output of 35-100 watts per channel. The amp should be bridgeable and it's desirable if the amplifier will double it's power when bridged. For example, if it is 50 watts per channel it would bridge to 200 watts into a single channel. If your head unit doesn't have RCA outputs (such as a factory, OEM head unit) you will want an amplifier that has built-in speaker level adapters. This allows your amplifier to take its signal from the speaker wires of the head unit. Expect to pay about $200 for an amplifier with those specifications.
Speakers
I would recommend only using front speakers which you will run off of two channels of the amplifier. If you do choose to use rear speakers I would simply run them off of the rear speaker outputs of your head unit. Save your money for a good quality component set for your front stage. For simplicity you can get the same size speakers as your factory system uses. Mount the woofers in the factory location (probably the door) and mount the tweeters near the woofer or in a coaxial mounting configuration (this is what was used on the project Acura in the installation video). A regular coaxial speaker would work here if it is of high enough quality. Expect to pay $150-250 for a good sounding speaker set. The sound of your front speakers makes the biggest difference in your system so I recommend spending a little more here and not worry about rear speakers.
Subwoofer
Depending on your taste you can either use a single subwoofer or multiple subwoofers. The more bass you want the more subwoofers you can use. For a single subwoofer I would recommend a 10" or 12" 4 ohm model. This will allow you to bridge your amplifier for maximum power output. If you use two subwoofers then I would recommend single 8 ohm models or dual voice coil models with 4 ohms per coil (wired in series to get 8 ohms). Then you would parallel the 8 ohm loads to get four ohms total which would allow you to bridge your amplifier for maximum power. Stick with a simple sealed or maybe a vented (ported) enclosure. Another option would be to buy a pre-loaded enclosure or a Bazooka subwoofer tube. Expect to pay $80-150 for a single subwoofer or $130-200 for two subwoofers. An enclosure will cost about $100+ to have built or you can do it yourself for $30-40 which includes carpeting, grill, terminal cup and all hardware. That's the method used in the installation video.
Wiring
Don't forget about wiring. You can't just stick it in the trunk and expect it to work. Head unit fit kits (if needed) are about $15 and wiring adapters are about $10. Amplifier installation kits will run about $30. Speaker wiring is about thirty cents per foot but you can probably make use of some of your factory wiring.
Total Cost:
Head Unit - $0-$100
Amplifier - $200
Speakers - $150-$250
Subwoofer(s) - $80-$200
Wiring/Enclosure - $100
------------------------
$530-$850
INSTALLATION - $0(Do-It-Yourself)-$250
TOTAL - $530-$1,100
---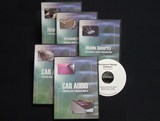 The Car Audio Help DVD catalog includes five different videos covering many areas of car audio installation and custom fabrication. Topics range from basic system installation (head units, amplifiers, speakers, etc.) and mobile security (car alarms and remote start) to subwoofer box design and fiberglass fabrication. If you're interested in custom fabrication and car audio installation be sure to check out what we have to offer.
Click here to see the discount DVD packages
---
Back to the Newsletter Archives Index