Old School vs New School Car Audio Amplifiers
Around the car audio forums there's always a debate about which is better, current model amplifiers or older amplifiers. There isn't much discussion between new and old for other car audio equipment, but there seems to be a real passion for older amplifiers. Since I've been around long enough to have experienced both new and old I'm going to share my opinion on the topic and let you know the pros and cons of both.
Generally old school car audio amplifiers are those that are 10-15 years or older. There's no real cutoff but that's the general consensus. Amplifiers that were made in the mid to early 1990's or before (depending on who is defining) are considered old school. They are highly regarded, in my opinion, for two main reasons. First, they have a lot of nostalgia for many people. These were some of the first large amplifiers that were available and car audio was really starting to hit its stride. There were a lot of really great, really expensive amplifiers out at that time. Second, these old amplifiers were generally very well built. They didn't have a lot of extras like signal processing or built in crossovers. Maybe they came with bass and treble controls but that was generally it. They were designed for one purpose and that was to put out raw power and that's just what they did. Think of these old car audio amplifiers as the equivalent of classic car. They were big, expensive, built like a tank and were often design works of art.
Now not all old car audio amps are classics. Like now, some were very poorly designed and built. But many are still sought after and work just as well as they did fifteen years ago. The great amplifier manufacturers back in the day (in my opinion) were a/d/s, Alpine, Autotek, Earthquake, HiFonics, Linear Power, MTX, Orion, Phoenix Gold, Precision Power, Rockford Fosgate, Soundstream, U.S. Amps and Zapco. Notice how all of those companies are still around after all these years? Some have been sold to new parent companies but most are still putting out good amps.
That brings us to the new crop of amplifiers. My feeling is the new amplifiers are not as well built as the older amplifiers. Now this doesn't mean that the new amplifiers are put together poorly. They're just not built as solidly as the older amps. And they really can't be. Manufacturers have found newer, cheaper and sometimes better ways to build amplifiers. This has allowed the price to come down and the power to go up. If an amplifier company was still building amplifiers the way they were fifteen years ago they wouldn't be able to compete on a price basis. That's very important in today's price conscious market where finding a lower price is just a few mouse clicks away.
The new school amps also have many more features. Built in DSP, crossovers and other goodies have blurred the line between amplifier and signal processor. Now for a few hundred dollars you can get a multi-channel amplifier with built in speaker level inputs, crossover, and filtered RCA outputs. This would be at least three separate boxes for most old school set ups but now it's almost standard. The new amps have more power and lower current draw thanks to new technologies such as the class D amp. This is a real plus for systems with large amps and a stock alternator.
Bottom line: The new car audio amplifiers offer more power, more features and cost less than the older amplifiers (original price). On the other hand the old amplifiers were arguably built better and will last longer than the new amplifiers. But amplifier technology has come a long way and if I had to choose between a new amp at new prices and an old amp at its original price I'd have to choose the new amplifier. There is better value in terms of watts per dollar, features and often current consumption. Much of the attachment to old school amplifiers is sentimental on the part of those (myself included) who remember fondly our first systems. But with prices of used equipment often being much less it pays to take a look at the older offerings as long as you know what to look for and what to stay away from. There's still a lot of life left in old school amplifiers.
---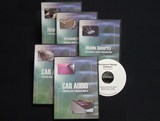 The Car Audio Help DVD catalog includes five different videos covering many areas of car audio installation and custom fabrication. Topics range from basic system installation (head units, amplifiers, speakers, etc.) and mobile security (car alarms and remote start) to subwoofer box design and fiberglass fabrication. If you're interested in custom fabrication and car audio installation be sure to check out what we have to offer.
Click here to see the discount DVD packages
---
Back to the Newsletter Archives Index