How to Find Out What Equipment Fits Your Vehicle
A recurring problem many people seem to have is not knowing what car stereo equipment will fit in their vehicle. It's often hard to determine what size speakers you have when the cones are behind factory grills. Even the radio may not be a standard size. Here's how to find out what you've got to work with in your vehicle.
Head Unit
The vehicle's radio is out in the open and a few simple measurements will tell you if it's a standard size. The most common size is called DIN (German abbreviation for Deutsche Industrie Norm which translates to German Industry Standard). The DIN size head unit has visible dimensions of 2 1/8" (50mm) tall and 7 1/8" (180mm) wide. There is no standard for the depth of the unit. Most aftermarket head units are a direct fit for this size and an adapter kit will not be required.
A double DIN head unit will often be found in Japanese vehicles (Toyota, Honda, Nissan, etc.) and is the same width but twice as tall as a standard DIN receiver. There are at least two options available for these openings. The first is to use a standard DIN radio in a DIN to double DIN adapter kit. This will allow the head unit to sit in the top half of the kit while the bottom half may have a pocket, an opening for an equalizer or an opening for a second DIN component. The other option is to use an aftermarket double DIN radio as a direct fit. Several manufacturers make this size in at least one model.
After that we have to deal with the non-standard sizes used by some American manufacturers such as GM (Chevy, GMC, Cadillac, etc.) and Chrysler (Dodge, Chrysler, etc.). These are commonly referred to as 1.5 DIN or "DIN and a half". Some refer to this size as "GM/Chrysler". These manufacturers also tend to have shallow dash cavities that make fitting a common depth radio (around 7") difficult. Usually the solution is to get an adapter kit for your DIN radio with a protruding front piece. This will allow you to fit the deeper head unit but the front of the unit will stick out and not sit flush with the dash. A good installer can get around this but it can be costly (re-forming/re-routing air vents, etc.). Another solution is to get an aftermarket radio that is built to the same size specifications as the original GM/Chrysler unit. Pioneer used to make a couple models that would fit without an adapter kit but their website no longer shows those size.
Then there are an assortment of very odd sized radios. Older GM pickups have a split unit with the control section near the instrument cluster and the tape/CD section in the middle of the dash. Older Ford Taurus models used an oval radio with the AC/heat built into the same panel. Both of these were overcome with the proper kits. Now more and more new cars are coming out with non-standard sizes and radios integrated with other vehicle electronics. This makes it more difficult to replace a factory stereo with an aftermarket one. This battle between the aftermarket and the OEM has raged for decades but the aftermarket has always found a way to adapt their equipment to whatever the OEM throws at them. It can take some time to design and bring to market these complex adapters but eventually there will be a packaged solution. The good news for consumers is that the quality of factory electronics keeps getting better and many consumers won't need to replace their factory head unit (at least for sound quality reasons). Instead they can spend the bulk of their upgrade money on the speaker system which is where the greatest benefit will be found.
Speakers
Speakers are a whole different ballgame. There are many different speaker sizes and it's tough to generalize which manufacturers use which size. The most common OEM sizes are 3.5",4", 5 1/4", 6 1/2", 4x6", 4x10", 5x7", 6x8" and 6x9". There are also two ways to mount speakers, top and bottom mount. Most speakers are top mount but some rear deck speakers will mount from the bottom of the panel (trunk side). For those with odd sized holes or holes bigger than the size you want to install you can buy, make or have made an adapter plate. The pre-manufactured models are usually made from plastic. The custom models can be made of several materials but I find the easiest to work with are Masonite (also called hardboard) in 1/8" and 1/4" sizes and the thinner varieties of MDF (1/4"). If the area will be subject to moisture plexiglass (acrylic) is a good option. Anything is possible if you just have the money to do it of course.
So that brings us to the real issue. How do you find out what fits your vehicle? The source most people (and many shops believe it or not) use is Crutchfield. For years their catalog was THE reference guide to have on what fits where. And it was free which also made it a very popular choice. Now the print catalog doesn't have the same amount of information but their website does. Using their "What Fits My Car" feature you can choose your vehicle from the drop down menu and it will give you a list of what products will fit your car. For example, using a 1995 Honda Civic Coupe it tells us that the rear deck speakers are 5 1/4" and the front door speakers are 6 1/2" models. We then have to look at the models of head unit to see that we have a DIN size radio (we know because the DIN sized radios show an EZ fit). Here's the link for the Crutchfield "What Fits" page.
There is an arguably better tool out there but it only covers vehicles up to 2007. A couple of the major manufacturers have partnered with MobileToys, a major provider of vehicle information for the aftermarket industry (especially car audio retail shops). Their database lists almost every vehicle made and what fits where. Thanks to the new partnership the consumer can now use this technology. Now these are designed to help you find the partner's products that will fit your vehicle and it does that very well. However it also shows you the size and depth of openings available in your vehicle. Very powerful. The one I like the best is right at MobileToys website.
Using our same Honda car we find the same information for speaker size but we can also click on the "Vehicle Details" link and see a popup that shows photos of the vehicle's dash and speaker areas with size AND depth figures. These depth figures are something that we really need to pay attention to. Buy a head unit or speakers that are too deep and you're going to have problems. Armed with this new information you can now find out what components will fit your vehicle without relying on a salesperson for advice. Knowledge is power.
---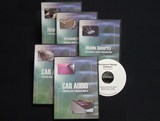 The Car Audio Help DVD catalog includes five different videos covering many areas of car audio installation and custom fabrication. Topics range from basic system installation (head units, amplifiers, speakers, etc.) and mobile security (car alarms and remote start) to subwoofer box design and fiberglass fabrication. If you're interested in custom fabrication and car audio installation be sure to check out what we have to offer.
Click here to see the discount DVD packages
---
Back to the Newsletter Archives Index