Repairing Car Audio Amplifiers
Perry Babin, the creator of the website Basic Car Audio Electronics, offers a DVD-ROM tutorial for anyone who wants to learn how to repair car audio amplifiers . The disc includes Flash demos, car audio amplifier schematics, schematic symbols and plenty of pictures. He also includes a copy of his entire site with special extras and a test tone CD for testing and evaluating. I HIGHLY recommend it for anyone interested in repairing car audio amplifiers. Perry has been repairing amps for decades and knows his stuff. There is nothing else like his tutorial anywhere and Perry sells this WAY too cheap so don't let the low price make you think the information is sub-par.
Check it out here: Learn How to Repair Car Audio Amplifiers
---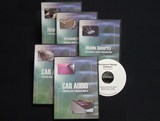 The Car Audio Help DVD catalog includes five different videos covering many areas of car audio installation and custom fabrication. Topics range from basic system installation (head units, amplifiers, speakers, etc.) and mobile security (car alarms and remote start) to subwoofer box design and fiberglass fabrication. If you're interested in custom fabrication and car audio installation be sure to check out what we have to offer.
Click here to see the discount DVD packages
---
Next Page ---> Car Stereo Equipment Reviews