Box Software
Car Speaker Box Plans
There are quite a few different enclosure design software programs out there. The prices range from free to $1,000+. For most designs that the novice box builder will attempt there are a few I could recommend:
WinISD - WinISD is made available by LinearTeam. It's a very highly rated, free program for Windows. There is also an online version which isn't as full featured but can be run on any operating system through a web browser. This can be helpful for Mac/Apple users since MacSpeakerz has been discontinued.
Blaubox (click to download) - Blaubox has been around forever it seems. Created by Blaupunkt, it's a DOS program which may cause some run problems with the newest 64bit versions of Windows (try running it in "compatibility mode"). It's free and definitely worth checking out. It even prints out the cut sheets for your car subwoofer box plans. If you still have trouble running it in compatability mode I'd recommend using a DOS emulator such as DOSBox. It's free and relatively uncomplicated to use.
DISCONTINUED MacSpeakerz - For the Macintosh users without a PC emulator there is a program out called MacSpeakerz. I haven't used it personally but it's fairly popular and virtually the only program made for the Mac. Provided by TrueAudio DISCONTINUED
---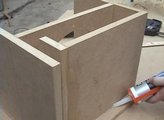 You should also check out Advanced Enclosure Design and Fabrication. It covers designing enclosures using free computer software, maximizing the output of a subwoofer system, building the box like a pro and testing the output using inexpensive equipment. Click here.
---
Now that you've seen what's available let's take a look at some of the subwoofer enclosure plans I've created using the software.
Next Page ---> Plans for Subwoofer Enclosures