Car Audio Installer Schools
This is the most complete list of car stereo installation schools I am aware of. If you know of others not on the list or if you think a correction needs to be made please send an email and let us know.
Installer Institute - located in Holly Hills (Daytona Beach), FL. Part of the Metra Electronics family.
Acoustic Edge - located in Houston, TX
Mobile Technical Training - located in South Hackensack, NJ
---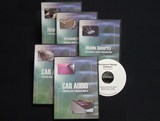 The Car Audio Help DVD catalog includes five different videos covering many areas of car audio installation and custom fabrication. Topics range from basic system installation (head units, amplifiers, speakers, etc.) and mobile security (car alarms and remote start) to subwoofer box design and fiberglass fabrication. If you're interested in custom fabrication and car audio installation be sure to check out what we have to offer.
Click here to see the discount DVD packages
---
Next Page ---> Crutchfield Car Audio Info