Car Audio Help Newsletter Archives
Be sure and sign up for our free newsletter. It contains special interest articles, installation tips and much more. This is a private mailing list and will never be sold or given away for any reason. You can also un-subscribe if you ever want using a single link included in every issue.
When you sign up for the free newsletter you will be sent a confirmation email and an email address you can send article requests to. Feel free to request anything you would like to see covered. Be sure to browse the archives below.
Car Audio Buying
Which Company Should You Buy From?
Buying Car Audio on the Internet
Tips for Buying Used Equipment
Buying Car Stereo at Government Auction
Holiday Buying Tips
Low Cost Systems
How to Choose a Car Stereo Installer
The Best in Car Audio
Avoiding Bad Car Audio Advice
Car Audio Amplifiers
Installing Multiple Amplifiers
Choosing the Right Wire Gauge for Amplifiers
Troubleshooting Car Audio Amplifiers
Car Audio Amplifier Troubleshooting
Amplifier Protection Mode Troubleshooting
Amplifier Power and Voltage
Cheap Amps, Good Specs - What to Believe?
Amplifier Power Ratings - Revisited
Power Specifications for Amps and Speakers
Matching Speakers and Amplifiers
Head Unit Has No Remote Wire
Car Audio Subwoofers
Difference in Enclosure Types
Cabin Gain (Transfer Function) in Car Audio
Achieving Up Front Bass
Adding a Subwoofer
Subwoofer Boxes: Buy or Build
Measuring Your Vehicle for Your Subwoofer Enclosure
Building a Custom Enclosure
Subwoofer Enclosure Plans
Wiring Subwoofers Correctly
How to Build a Boom Car
Are You Losing Bass?
Do You Need to Divide a Multiple Woofer Enclosure
How to Refoam and Repair a JL Audio W7 Subwoofer
Car Audio Equipment
Coaxials vs. Components
Remote Starters
Neon and Lighting
Choosing Audio Equipment for the Marine Environment
Car Audio Installation
Head Unit Size Differences
Car Audio Routers, Jigs and Bits
How to Find Out What Equipment Fits Your Vehicle
Head Units to Problem Vehicles
Calculating the Correct Fuse Size
Using Car Audio in a Home Stereo
Becoming an Installer
Fiberglass Basics
Fiberglass Layers for an Enclosure
Headlights Dimming
Troubleshooting Car Audio Noise
Car Audio Amplifier Blowing Fuses
Troubleshooting Car Audio Speakers
Car Audio Misc
Car Audio Myths
Speakers and Impedance
Q&A #1
Q&A #2
Q&A #3
Old School vs New School

---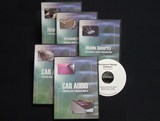 The Car Audio Help DVD catalog includes five different videos covering many areas of car audio installation and custom fabrication. Topics range from basic system installation (head units, amplifiers, speakers, etc.) and mobile security (car alarms and remote start) to subwoofer box design and fiberglass fabrication. If you're interested in custom fabrication and car audio installation be sure to check out what we have to offer.
Click here to see the discount DVD packages
---