Buying Car Audio on the Internet
Probably one of the least popular things a car audio salesman or shop owner hears everyday is "but I can buy this cheaper online". This is probably true from a price point. You can almost always buy equipment cheaper on the Internet than you can in a retail store. The store's employees know this and they know that you know this. So now comes the fun task of trying to explain all of the reasons you should spend more money for the same equipment. Sometimes the arguments are valid and sometimes they're not. So as an unbiased source (not selling car audio equipment to you) let me give some of the reasons you would want to spend more for the same product.
Reasons to Buy Car Audio in a Retail Store
Rather than tell you what I think are the most important reasons I'll just list them and let you determine what's important to you.
Buying from an authorized source (verify this with the manufacturer)

Purchasing your equipment from a retail store is a relatively easy way to make sure you're getting new equipment with a full manufacturer's warranty. Most of the top manufacturers of equipment will not warranty equipment sold over the Internet or otherwise sold by unauthorized source. Crutchfield is a notable exception since equipment sold by them carries a full warranty. It should be noted that some stores will sell equipment they're not authorized to sell. This is called trans-shipping or gray market items. These will not have a warranty in most cases which is why you want to verify with the manufacturer.


Manufacturer may extend the warranty if installed by an authorized dealer.

Many companies will extend their warranty from the standard one year to three years or more if the equipment is installed by an authorized dealer. Some offer no or a very small warranty if installed by anyone else. If you're having the equipment installed it can be a valid selling point.


Salespeople are knowledgeable and installers are skilled

A good car audio store should add value to the products and services they offer. Twenty years ago (pre-Internet) a store could get away with being little more than a warehouse. These days a shop needs to provide much more. A good salesperson should help and guide you in your purchase so you make the right decisions for you. This is something the Internet generally can't do.


Equipment is usually in stock and available immediately

If you like instant gratification it's hard to beat a well stocked car audio shop. When overnight is not fast enough this is the only way to go.


No shipping charges to return damaged or defective merchandise

In my opinion a good car audio shop should take in-warranty damaged goods and send them in for the customer. It gives the shop a chance to examine the equipment to see if it's really damaged (may be an installation problem) and maybe even exchange it on site (don't expect this). Ask the shop about their policy on in-warranty problems. Get it in writing at the time of sale.
Reasons NOT to Buy Car Audio in a Retail Store
These reasons are either invalid or ones that really don't benefit you (though shops like to use them).
"We've got overhead to pay (employees, rent, utilities)"

Yeah, life's tough and being in business isn't easy. While it's true that shops have many expenses to pay that Internet businesses do not paying for these things doesn't add any value for you. Having a knowledgeable staff does. Just having a storefront does not.


"We won't install it if you don't buy it here"

I personally don't understand this one. Well, I understand it but I don't agree with it. Basically the shop is trying to strong arm you into the sale (in fairness they also don't know where you got the equipment and if it is new, broken or stolen). Rather than get paid for the installation they're going for "all or nothing". There are usually plenty of places that will install the equipment for you so unless that shop has the monopoly on installation skills in your area you shouldn't give in to that kind of bullying. Find another source for your installation or do it yourself. Did I mention we have videos for the DIY'er :)


The shop doesn't employee knowledgeable sales or installation staff

Having a shop with warm bodies doesn't mean they have anyone worth listening to or allowing inside your vehicle. Ask to meet with the installers (briefly) before they touch your vehicle. Check out their photo books (physical or digital) and make sure the pictures they use were done by them and not another installer or another shop. And make sure your BS detector is set on alert when listening to the sales people. Some are very good and some don't know their head unit from their butt connector.
Reasons to Buy Car Audio on the Internet
Price

The low overhead and competitive nature of the Internet makes it ripe for price reduction. When all you're doing is offering equipment there isn't much you can compete on other than price. Crutchfield has managed to avoid this by offering superior sales and technical support along with free extras like wiring harnesses and installation brackets.


Selection

By not having a retail space all of the square footage can be used to house more brands and more models. And since the company is often not an authorized source it can carry many brands (called transshipping, the companies often get their equipment from distributors or shops that want to move authorized inventory).


Convenience

Jumping online and letting your mouse do the work is pretty easy in my book. Traveling from store to store is only a click or two away. It sure beats driving from store to store.


You know what you're looking for

If you already know what you want then you probably don't need the advice of a salesperson. Of course knowing what you want and understanding what is best for your situation are two different things. Most people that "know what they want" could really use the advice of a knowledgeable salesman.


You're installing it yourself

The same for installation. If you're doing it yourself you don't need to worry whether or not the shop has time or desire to do your vehicle.
Reasons NOT to Buy Car Audio on the Internet
Probably won't get a warranty

Most of the best car audio manufacturers don't warranty items purchased online. Again, there are exceptions such as Crutchfield. You may be on your own unless the seller offers their own warranty (which you may have trouble enforcing). Find out from the manufacturer what their costs are on out of warranty repairs. Some offer a flat rate repair which may be much less than you'd imagine.


Might not get new equipment

When you're not authorized you're not under the watchful eye of the manufacturer. You might get away with selling used, refurbished, scratched/dented, or otherwise inferior product. This is why manufacturers don't warranty sales from unauthorized sources.


Shipping time

Unless you pay the big bucks the shipping time can be up to a week (assuming the equipment is in stock and sent ASAP).


Shipping cost

Car audio equipment is heavy, especially amps and subs. These costs can really add up and are often a big profit center for shady online outfits that jack up shipping charges to make up for selling low priced equipment. Usually by the time you've decided to buy the equipment an inflated shipping charge won't change your mind. So before you make that commitment to buy check out the shipping costs and any "handling" fees.
Bottom Line
There are valid reasons for buying retail and for buying online. Weigh the pros and cons of each and decide which is the best source for your needs. And if you have some other major reasons that you think should be added feel free to send them in.
---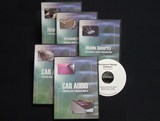 The Car Audio Help DVD catalog includes five different videos covering many areas of car audio installation and custom fabrication. Topics range from basic system installation (head units, amplifiers, speakers, etc.) and mobile security (car alarms and remote start) to subwoofer box design and fiberglass fabrication. If you're interested in custom fabrication and car audio installation be sure to check out what we have to offer.
Click here to see the discount DVD packages
---
Back to the Newsletter Archives Index