Keeping Your Vehicle Cool (or Warm) With a Remote Starter
As the summer months approach and the temperatures start to rise people begin to dread going out to a boiling hot vehicle. As if going a full day of work isn't bad enough a waiting sauna just makes it even worse. Enter the remote start system.
Benefits of the Remote Starter
A remote starter is basically an electronic unit controlled by the owner using a remote transmitter. These are usually tied in with a vehicle security system but stand alone units are available. The remote starter ties into the vehicle's ignition circuitry and will start the engine remotely. By setting the vehicle's temperature controls to on prior to exiting the vehicle a remote starter will be able to cool the vehicle after it is started (it also works for the heater in winter months).
Other Features
Since most remote starters are part of a security system there are other features that can be gained from it. Security features include (depending on the unit) door/hood/trunk monitoring, starter disable, audible warning and passive arming capability. Convenience features can include automatic locking of doors, remote door lock/unlock, remote trunk release, dome light illumination with disarm, window roll-up/down or just about anything else the installer can dream up. You might consider looking at the higher end models that have remote paging capabilities. These will have a greater remote range and will also transmit back to the remote the status of the vehicle. Very cool and you don't have to guess whether your car started or try to pick it out in the parking lot through the window at work.
Cautions
Since the remote starter has the ability to start the vehicle there are a few warnings that go along with them. The biggest is their use on manual transmission vehicles. Never install a remote starter on a vehicle with a manual transmission unless you use a remote starter system specifically designed for it. If the vehicle is left in gear the car will lurch forward and strike whatever is in front of it (wall, another car, person, etc). Ask an installer about it and they'll all have a story.
As part of the security aspect of the system there will be some way to disable the vehicle when the alarm is triggered. The proper way to do this is with a starter disable relay. Some other ways are through ignition or fuel disable. These two are not recommended and should be avoided entirely. They pose too much potential for disaster if they fail while the vehicle is being driven.
When comparing systems look for one that keeps the vehicle alarm armed when the vehicle is remote started and running. Also make sure the system has a programmable run time. This will keep the vehicle from running constantly if you are unable to shut the system down for some reason. A 10-15 minute run time is what I recommend.
Installation Costs
The cost to install a remote starter varies by the number of features you want added. The "Remote Starters installed for $129" signs you might see will probably be a bottom of the line unit with the minimum number of features. It may not even include a security system. This is probably fine if you only want the remote starter capabilities but if you want a full blown security/convenience system then expect to pay more. A decent remote starter will run $100+ and installation will probably be about the same. Look for units that have built-in relays for the features you want. This keeps the installer from having to find room, install and charge you for external relays.
Bottom line: Remote starters will keep your vehicle comfortable and can offer many security and convenience features that you'll wonder how you lived without.
---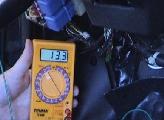 You may also be interested in our Mobile Security and Remote Start Installation DVD. It covers pre-wiring the security system, verifying vehicle wires and function, use of relays and diodes and testing and troubleshooting. Click here.
---
Back to the Newsletter Archives Index