Head Unit Has No Remote Wire
A relatively common problem is installing an amplifier with a factory head unit or other head unit without a remote turn on wire (or a burned out circuit). So the amplifier doesn't stay on 24 hours a day you need a way to turn it on and off remotely. Hence the term "remote turn on wire". Almost every aftermarket head unit has a remote turn on wire. Some manufacturers call it a power antenna wire. But regardless of the label all it does is output a positive 12 volts when the head unit is turned on. It should be noted that some head units have both a remote turn on wire and a power antenna wire. It's important to use the right wire for your amplifier and other electronic equipment. In the case of both remote and antenna wires the power antenna wire will only output 12 volts when the radio is on. If you were to connect your amplifier's remote terminal to the power antenna wire then you would only get output from the amplifier with the radio. When you switch to CD the amplifier would not work because the head unit turns off the power antenna wire when the radio is section is not active.
There are several ways to get your amplifier to turn on and off remotely even if your head unit does not have a remote turn on wire. The cheap and easy way is to run the amplifier's remote terminal off of a switched accessory wire. This is the wire that your head unit uses. It is only powered when the key is in the accessory or run position of the ignition switch. When you shut the car off the wire loses power and the head unit and amplifier will both turn off. Your amp will be on when your car is on and off when you car is off. If you don't want the amplifier to always be on when the car is on you could wire a simple switch inline with this new remote wire. Normally you would leave it on so that it turns on when the head unit is on. But if you wanted to turn the amplifier off you could flip the switch to off which would stop the flow of 12 volts to the amplifier's remote turn on terminal.
There are also units that will sense the voltage on the head unit's speaker wires and then send a +12 volt signal to the remote wire. These units are an option for those who do not want their equipment on full time (when the ignition is on) and also don't want to wire in a switch. PAC makes some very popular ones such as the TR4 or TR7. David Navone also has an inexpensive model available that has a full amp of current output (you can add more components to it without needing an external relay).
Another issue you can run into with factory head units is the lack of RCA outputs. For this you will either need an adapter to convert the speaker output signal to an RCA signal or an amplifier with a built in adapter. These are often referred to as high level to low level adapters or speaker level to RCA adapters. They run $10-30 and are available at car audio shops and related businesses. For premium systems such as Bose, JBL, Infinity, etc. you will likely need a specialized adapter. Companies such as PAC and Precision Interface Electronics all make these type of interfaces. For even more advanced factory systems that also require re-equalization look to Alpine (Imprint), AudioControl (DQL-8), JL Audio (CleanSweep) and Rockford Fosgate (3Sixty.3).
---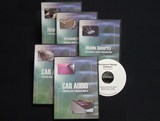 The Car Audio Help DVD catalog includes five different videos covering many areas of car audio installation and custom fabrication. Topics range from basic system installation (head units, amplifiers, speakers, etc.) and mobile security (car alarms and remote start) to subwoofer box design and fiberglass fabrication. If you're interested in custom fabrication and car audio installation be sure to check out what we have to offer.
Click here to see the discount DVD packages
---
Back to the Newsletter Archives Index